Managed by the Shirley Community Association, The Shirley Community Centre offers a wide range of events and activities throughout the year, both through our own member sections or provided by external users.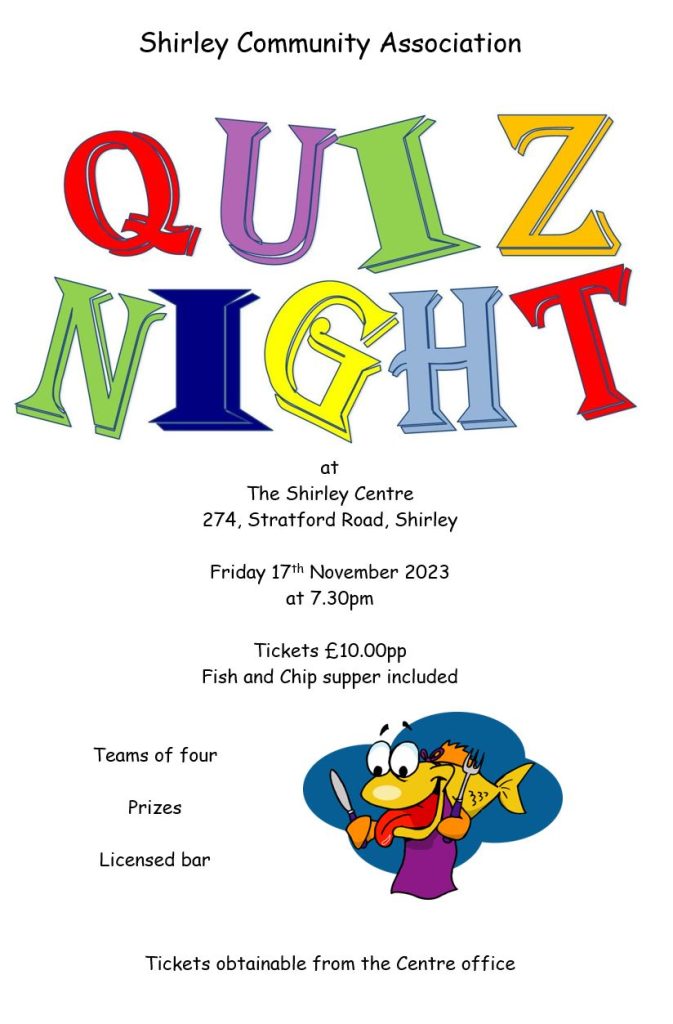 Why not join us at the Shirley Centre on Friday 17th November for our Quiz Night?
Get together with some friends and form a team of up to 4 people – don't forget to come up with a good team name!
The price is £10 per person, which includes a fish and chip supper to help the litle grey cells!
Get your tickets from the Centre Office, and see how good your General Knowledge is – you could win a prize!
Situations Vacant
CARETAKERS REQUIRED
The Shirley Centre is a community facility operated by Shirley Community Association. It hosts a large and varied number of groups and community activities throughout the week. Due to increased use of the building we are seeking to add to our team of caretakers. – please click HERE for details and to apply.
We operate as a not for profit charity, number 229066, and any venue hire fees we charge are ploughed back into the upkeep of the building and the Community Association's charitable aims. Our trustees are all unpaid volunteers who work hard to keep this venue running as a community asset for the people of Shirley.
You can find us at:
274 Stratford Road, Shirley, Solihull. B90 3AD See map
Follow us on Facebook or Twitter
Contact us by telephone: 0121 250 5005 or email us